Hello,
If you want to make good money selling soap...
If you want to make your soap products unique...
If you want to know what people really buy...
And where they go to buy it...
If you want to sell soap and related products right from home...
Especially if you're tired of working hard and getting nowhere fast...
There's giant potential for soap makers, even in this economy we're dealing with today!
You can...
Make unique soap products.
Find some customers using easy methods.
Give them a chance to buy more.
Offer them other items.
Move on.
Keep on reading if you want to start a soap business and generate an income mostly from home...
If you already sell soap and want to sell more, with little extra effort, this is for you too.
I have some ideas I think you'll like...
You might have all these questions too!
Like:
What soap sells the best?
How can I find good recipes?
What are the best scents to use?
How can I find places where people won't just look, but buy?
Can you really make money with soap?
How can I make unique soap?
Are there simple ways to sell each person more stuff?
How can I sell soap on the web?
Is there some easy way to build a website and keep it up-to-date?
And all kinds of other questions...
A Clear Soap Business Plan
Answers To Your Soap Business Questions
To get going with a handmade soap making business, check this out.
Maybe you're looking for a fun way to make some extra money.
Maybe you're ready to take your soap business to another level.
Maybe you've made so much soap you're having to walk around it and need the room back...
It could be that you want to get into a low-cost little home based business with your family, and making and selling soap sounds like a fun idea.
The real question is this...
How can you sell a lot of soap in a hurry?
It can be done.
Read on for more ideas!
If you can make great soap and put your own unique twist on it, you have the makings for a money making soap business.
All you need is a plan for selling that soap that will really work.
Read on for the story...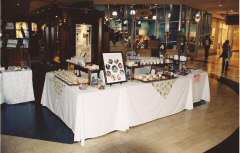 Starting A Soap Business
Well, here's why you might want to listen to what we have to offer.
We sold over twenty-nine thousand (29,000) bars of soap, just working part-time.
That was just working out of the house selling soap made in the kitchen sink. This was a little kitchen-scale venture that made money from the very start. The plan we used can be used by just about anybody. It's simple and you will quickly understand it.
Can you imagine making 29,000 bars of soap in little 50 and 100 bar batches? That's a lot of work, but it is very possible.
And, it sure beats putting up with a lot of stuff I've put up with to make money. Can you relate?
*****
See, with a home-based business you can spend more time with your family. You can set your own hours. You can work as little or as much as you want. It's up to you.
Now surely a handmade soap business can be operated as a tiny, low-cost venture that can stay small and still be profitable. It doesn't have to stay small however.
There are some, what I would call, monster-size businesses that started about the same way you could start your business, just from your home. Two businesses like this that come to mind are Dr. Bronner's soap and Burt's Bees.
So, it's really up to you what you do with a soap making business, or maybe we should call it a soap selling business!
*****
People are going to keep buying soap. It's just up to you whether they buy it from you or from somebody else.
Along the way to where we are now, we learned a lot about not only making soap but about selling it as well.
We decided to put down what we learned and let others have access to it. There's room for lots of soapmakers.
And there is room for more people who make money selling their soap. Truly there are many drop-outs in the soap making business, for a lot of reasons. There is no need for you to be one of them though. If you know the right moves to make, you can be somebody who does really well at this.
*****
So, based on our experiences, we put a plan together.
What we put together is called the SoapBizKit.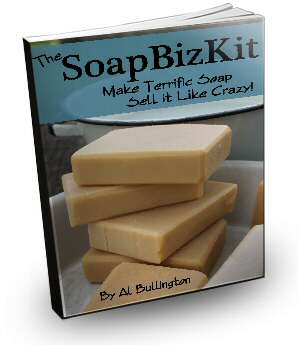 The SoapBizKit is really a two part book.
Part one is about making terrific and unique soap.
The second part is how you can sell mass quantities of your soap.
As stated, the first part of this product shows you how to make exceptionally great soap.
How To Make Unique Soap That Will Sell
Surely there is all kinds of information out there about soap making. As you well know, some of that information is pretty questionable, at best.
Besides, you really want to be making soap that is unique to you and better than what other people have. And you can accomplish that with the right information.
Here's what to expect in the first part of the SoapBizKit.
How To Make Great Soap

Develop soap

that's yours

alone. That's a great feeling.



See how you can basically

invent

your own products.



Get detailed soap making instructions that

cut out

all the confusion.



Get the secrets for special product blends

your customers

will love!



Make soap that

others can't copy

.



Discover sources that spell out

what scents sell best

. Guess work eliminated.



Get

proven-to- sell

recipes. What a boost to your business!



You'll get

19

of our top soap and shampoo bar recipes. That can save you tons of time.



You'll get vegan soap recipes, castile soap, oatmeal soap, animal fat soap, milk soap and more. Make just what people are searching for. You can have

what people want...





See how you

evaluate recipes

. Don't waste time and money on junk soap recipes.



Save time with our soap making tips. Make soap faster.



Which ingredients make the very best soap? You'll get the

straight story

.



Reveals which

soap oils

work best and why.



What tools you need and where to get them. Best sources.

No time wasted.





Shows how to incorporate

aromatherapy

in soap. People are looking for this and you're the one who can provide what they want.



How to use essential oils in your soap. That's what we recommend.

All natural scents.





Using

herbs

in soap boosts interest. People want herbal products. You'll be able to make them.



The best places to get supplies. Save a lot of trouble going right to the

best

suppliers.



If you want, make

milk soap

with our easy methods. Very popular.



You will get tips for making large volumes of soap with the

simplest equipment

. Don't waste money on things you don't need.



Advanced ideas for better looking bars. Imagine the joy of making

beautiful items

yourself.



Color tips

using natural materials. Marbling colors simply. Again, with some tips you can make great looking soap.



Make thousands of bars of soap right in your kitchen. No need for expensive equipment. Get started

fast and easy

.



Avoid confusion with our simple methods. Master the basics and you'll progress

quickly

. It's easy to do and not confusing at all.



Proven methods are simple, basic and

easy to follow

to the very best results.



Amaze

your friends and family with your great soap that you produced.



With this information:
You can make outstanding soap;

You can make it fast;

And you can get going quickly.
You can make it unique.
When people use it and love it, there's only one place to get more!
And you're right there ready to help!
It's a great spot to be in, if you like making and selling soap!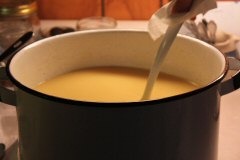 In the second part of the book is a great plan for selling your soap.
To sell soap, you must have a great product. That's a given.
Here's How To Sell Soap The Easy Way
Then the task is to find some customers.
Once you get your products in their hands, you have a great advantage if you're selling natural soap products.
What you sell to people gets used up and washes down the drain!
Then, if they liked it, you can sell them some more!
Hurray!
That's where the fun begins. The repeat sales are what makes a soap business really take off!
So in the marketing part of the SoapBizKit we lay out a plan to both get new customers, and get repeat purchases from those customers.
So here's how the selling part of the book can help you...

Get a proven-to-work plan for selling your soap. It's clear and not confusing. It works.



How to get your soap selling business started fast. Don't waste any more time at all.



See how you can easily find some customers to get your business going. It's simple.



Ways to get going for nearly no money.



Tricks to selling at events. Hard to find information.



Easy ways to get sales from home.



How to deal with finances. Make money. Don't waste it.



Reveals 4 ways to get new customers. Know right where to start.



Easiest ways to sell soap on-line.



The reason a soap business beats many other business ideas.



How to get a lot of sales from home without going anywhere.



What to do to get bigger orders. Our mail orders were almost always over $35, sometimes a lot over!



You can sell a lot more than just soap. Find out how to do it. Boost your sales.



How your customers make it easy for you to make more money.



How to use a website and how to easily get one yourself.



Using marketing materials to boost your sales.



People keep using soap and they have to get it from somewhere. Maybe they could get it from you!

This book is about 130 pages. The pages are 8 1/2 by 11 inches.

It is packed full of tips, tricks and ideas for your soap making business.

It contains a good selection of color pictures too, showing many of the soap making steps, as well as packaging ideas, and display ideas. This is a hefty document with a lot of detail.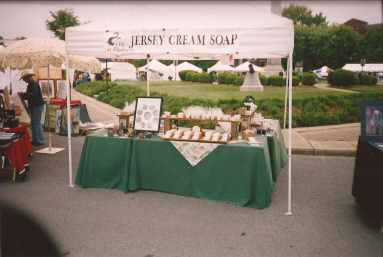 SoapBizKit Buyer Comments


THANK YOU!! Once again, you have gone above what I asked for. Thank you so much for the

pricing ideas

. (and all the other helpful experience and information you have shared with me.) I have told a friend who makes soap in IN about your ebook and highly recommend she get it... It is a real deal at 37.00. I feel the information you share in your soap making and craft show ebooks would improve any soap making business

one hundred fold

at least and is a wonderful

investment

in any soap making venture, for hobby, and especially for business.

L. Bush Kentucky
Here's The Plan For Selling Your Soap
You get the SoapBizKit which is really two books in one.
It describes in detail how to make your own unique soap, starting with our proven methods for designing and making soap.
It also lays out how you market soap, using proven methods.
Find new customers and then offer them replacements as your soap gets washed down the drain.
Ain't it great!
Some of the tips in this resource might be worth thousands of dollars to you...
And few people know what it takes to really grow sales.
I know it's true, as I watch what other soap makers fail to do. I see it every time I go to a craft fair. They are missing out just because they don't know.
That's what we have to offer.
A proven plan to make great soap and then sell it.
It's not for everybody.
If you're in one of the following groups...
The SoapBizKit may be just what you need.

Beginning soapmakers who want to get started right.



Anybody who is ready to look at soap making as a fun hobby.



Those who might be looking for a way to make extra money.



Hobby soapmakers ready to see how to start a soap business.



Soap business owners looking for more customers.



Soapmakers looking for some top selling recipes.



Soapmakers ready to move to a more advanced level.



Those interested in making goat milk soap or other milk soap.



Those who want details for making unique soap.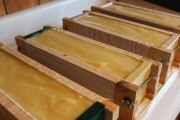 Soap Recipes In The SoapBizKit
Lavender Luxury Herb Essence Soap
Larger Lavender Goat Milk Soap
Peppy Peppermint Soap
Herbal Animal Fat Soap
Soothing Shea Goat Milk Soap
Oatmeal And Honey Bee Soap
Tea Tree Scent Stopper Medicinal Soap
Sunny Safflower Soap
Gingerly Sparkle Soap
Flower Patch Soap
Basic Creamy Milk Soap
Cottage Garden Herbal Soap
Mostly Castile No Palm Soap
Doctor Pepper's Wonder Soap
Especially Facial Soap Cakes
Grocery Store Goat Milk Soap (Unscented)
Pup Friendly Soap
The Exotic Shampoo Bar
Lemongrass Bergamot Shampoo Bars
These are not just one recipe with different scents either.
These recipes use varied ingredients and produce different sorts of soap. Making everything the same, except for scent, is too boring for me. Besides not everybody likes the same sort of feel in soap. What's more, if you make a soap for acne or for oily skin or other skin conditions, you surely must vary how the finished soap works. We show you how to do just that.
With our design ideas you could turn these recipes into an:
Endless variety of unique formulas!
It's easy to do and we show you the tricks to get it done.
The soap making part in the material covers cold process soap making mostly. That's where the money is.
It's not about hot soap processes. It's not about melt and pour soap. These are fine ways to make some nice products and we do explain these processes in the book.
But we mostly are using cold process methods as that's mostly where our experience is.
I don't want you to limit yourself and waste your time. I want you to get off to a good start and make some money. I hope that's clear.
It's a simple plan, but it's not obvious how to do a lot of this.
This is hard-won knowledge. We weren't born knowing all this. We picked it up the hard way, from experience.
So here we are all these years after we started on this soap making and selling venture. We're still hard at work, at home, making things and selling things.
If you are interested in making a go of selling homemade soap for profit, we offer the SoapBizKit.
You get about 138 pages in this digital download.
The SoapBizKit is an ebook so you get it instantly.
You can read it on your computer or print it out.
The book includes a good selection of detailed soap making pictures, as well as some pictures to give you some marketing ideas.
We wrote the book and it is newly updated with current information.
You can sell a lot of soap, even in today's economy, if you know how.
You can also waste a lot of time and get nowhere. Truthfully, that's what most people will do... It doesn't have to be that way however.
Your Iron-Clad, No-Risk, All-Your-Money-Back, 1 Year Guarantee!
Your SoapBizKit comes with a 100% Money-Back Guarantee.

Take the time to look through the material and see if it isn't just what you were looking for. If you decide it's not for you, for whatever reason, just send me an email (info at soapbizkit.com) and (no questions asked) you'll get a courteous refund.
So you see, you have absolutely no risk in ordering the product - all the risk is on me!
Click On The Buy Now Button Below.
Get your soap business going fast with the SoapBizKit.
Don't waste one more day without this shortcut to profits.
The price for the entire package is just $37.
Get It Now!
After a short delay you will be on the PayPal page to make your payment. You do not have to sign up for PayPal to buy.
If you decide to order, we appreciate your business.
Remember, it takes action to get results.
Get this information today, while it's still available.
It's freshly updated and packed with tips you can use right now.
Thanks for reading this.
We wish you the very best!
PS:

Get a

proven-to-work

soap business plan. Remember, you have absolutely nothing to lose - and everything to gain - with my 100% money-back guarantee.

Get unique recipes so you can make something different from what others are turning out.

Get a complete marketing plan so you can sell soap like crazy.



SoapBizKit.com Copyright © - All Rights Reserved
About Privacy Policy Disclosure Contact Articles Home